Fáilte ☘️ Same-Day Delivery available for Dublin* (Please see FAQs for more information)
Login
Log in if you have an account
Register
By creating an account with our store, you will be able to move through the checkout process faster, store multiple addresses, view and track your orders in your account, and more.
Create an account
Macbook vs Matebook.
02 Aug 2021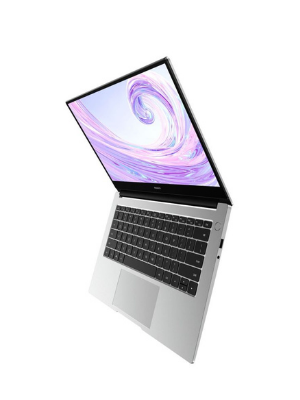 Macbook vs Matebook. Which one is right for you?
In the latest series of Tecca News, we compare the Huawei Matebook D14 and the Apple Macbook Air.
Processor:
The Macbook Air comes loaded with Apple's new M1 chip, which allows for huge leaps forward in performance. The M1 has four high-performance CPU cores that handle the demanding stuff such as crunching data and editing photos, while four high-efficiency CPU cores handle lightweight tasks such as sending emails. All eight cores can run simultaneously for maximum performance, but the chip is designed to be as power-efficient as possible.
The Matebook D14 comes with Intel core i5 processor, which accelerates and enhances performance. The Core i5-8250U  processor, along with a fast SSD make the laptop powerful enough for demanding applications like Adobe Photoshop. Multitasking is also very smooth thanks to its hardware and the Windows 10 Home operating system.
Verdict: The Macbook Air wins this round with its super fast M1 chip. 
RAM:
Both the Apple Macbook Air M1 13 inch and the Huawei Matebook D14 come loaded with 8GB of Random Access Memory (RAM) as standard. This allows for multitasking at ease, with both laptops able to handle multiple applications and windows open and running together. The standard 8GB of RAM would be sufficient for the majority of laptop users. Where you start to run into difficulty is when you use more complex applications and software. One example would be extensive video editing using applications such as Final Cut Pro. Although this can be run on either machine, often users would find a much better performance by upgrading to 16GB. 
If you are looking to upgrade, you can get the Macbook Air 13 inch, with 16GB of RAM as a built to order, or custom built machine. The cost of this additional RAM is an added €230, and be prepared to wait an additional few weeks to get your hands on your new machine. If you're going with the Huawei Matebook option, in order to get 16GB of RAM, you would need to upgrade the the Huawei Matebook X pro. This Matebook comes with the option of up to 16GB of RAM, an 11th gen intel core i7 processor and 1TB of storage, however the 1TB i7 model will set you back €1899. 
Verdict: This ones a tie with both laptops packing a punch with 8GB RAM as standard.
GPU:
The Matebook D14 comes loaded with a dedicated Redeon Vega 8 Mobile GPU, or Graphics Processing Unit. This provides 8 cores for fast and clear graphics. This GPU is well suited to gaming. The Macbook comes loaded with an integrated 7-core GPU, providing fast performance, whilst also improving energy efficiency. This GPU is well suited to photoshop and video editing. The Macbook Air also comes with the option to upgrade to an 8-core GPU, however this will set you back an additional €270. Although they both provide stunning visual performance, the Matebook comes loaded with a slightly higher core GPU as standard
Verdict: This one goes to the Matebook D14, with its Redeon Vega 8 Mobile GPU.
Screen Size:
The Apple Macbook Air comes with a 13" screen. The Huawei Matebook D14 on the other hand comes with a 14" screen. This one comes down to personal choice, wether you value having a larger screen for things like watching movies and videos, or wether you prefer the portability of having a slightly smaller laptop. For us, it's all about the movies. 
Verdict: The Matebook D14 wins this round with a slightly larger screen. 
Display Resolution:
Both the Huawei Matebook D14 and the Macbook Air have vividly stunning, colour-rich displays, that make your content come to life. The Macbook's retina display screen has a resolution of 1920 x 1200, with 500 nits of brightness. The Matebook, in contrast, has a resolution of 1920 x 1080, with 250 nits of brightness. This one is extremely close, with both laptops providing a stunning display with sharp and vibrant colours. 
Verdict: The Macbook Air wins this round with its signature retina display screen. 
Battery Life:
The Macbook 13" professes to have 'all-day battery life' and this statement is backed up, with its 49.9‑watt‑hour lithium‑polymer battery providing up to 18 hours of enjoyment. This figure is based on 18 hours of Apple TV movie playback, whilst the figure falls to 15 hours of wireless web browsing. In comparison, the Huawei Matebook D14's lithium-polymer battery achieves up to 13 hours. 
Verdict: The Macbook Air wins this round comfortably, with superior all round battery performance.
Storage: 
One key component in this contest is storage space. Saving files locally to your computer and not having its performance sacrificed by overloaded hard drives is important for lots of laptop users. And although there are many alternative options such as external and cloud storage, built in storage space will always remain important in the laptop purchase decision. The Macbook Air comes with 256GB storage in a Solid state drive as standard, although there are options to increase this available. However, the Matebook comes with 512GB Solid state drive storage as standard.  
Verdict: The Matebook D14 wins this round with its 512GB storage as standard. 
Operating System:
Another crucial aspect here is the operating system each computer uses. Its much easier to get up and going with your new computer when you are using an operating system familiar to you that is intuitive and easy to use. The Huawei Matebook D14 comes preloaded with Windows 10, whilst the Macbook Air will come pre loaded with Mac OS Big Sur. So this essentially becomes a question of Mac versus windows, and which operating system you prefer. 
Big Sur is Apple's next-generation operating system for its Mac products, and it provides a major visual and functional overhaul. Some of our favourite updates include the control centre, notification centre, and the dock. These updates not only improve the overall aesthetic of Mac OS, but they help you to enhance your productivity too. 
Windows, on the other hand, is by far the most popular operating system. Windows 10 brought new enhancements to the software, including faster start up, touch screen support, further integrations with iOS and android, as well as enhanced photo editing and parental control options. 
This one won't be settled easily, and computer users tend to get entrenched in their preferred software. 
Verdict: The Macbook Air wins this round, as we love the functionality and ease of use of MacOS Big Sur. 
Weight: 
The Macbook Air 13" weighs in at just 1.27 kilograms, whilst the Huawei Matebook D14 weighs in at 1.53 kilograms. The Macbook is the more lightweight, portable laptop here, however, it's important to keep a few things in mind. The Huawei Matebook D14 has a larger screen at 14", as well as double the storage space, and both these factors largely contribute to the laptop being slightly heavier than its apple competitor. 
Verdict: The Macbook Air wins this round, weighing in 0.26 Kilograms lighter, with a total weigh of just 1.27 kg. 
Aesthetic:
This MacBook Air 13" has the same wedge-shaped, machined-aluminium chassis that we're used to, as well as razor-thin bezels allowing it to feel somehow lighter and thinner. It offers a sleek back-lit keyboard, and a Force Touch trackpad that offers accurate input recognition and smooth scrolling, as well as a variety of short cut trackpad features. The MacBook is available in gold, silver and space grey. 
The Huawei Matebook D14 is also made from sleek grey aluminium casing that gives it an elegant finish. A new screen design and a hidden camera allows for its thinnest bezel, making the Matebook D14 extremely thin and portable. The backlit keyboard is a joy to use, and there is also a built in finger print sensor on the power button. It also comes with a built in touchpad, and touchpad gestures allow for an amazingly intuitive experience. 
Verdict: This one is again extremely close, with the Matebook D14 impressing with its sleek and stylish design. However, the Macbook wins this round for us, with its amazingly sleek and thin design. 
Price & Final Verdict:
The Huawei Matebook D14 is currently €100 off exclusively at Tecca, and it's available for just €699 in-store and online at tecca.ie. The Apple MacBook Air 13" is available for €1,129, and can also be purchased in store or online at tecca.ie. The Huawei Matebook D14 is the clear winner on price here, however the laptop that's best for you will depend on a variety of the factors listed above. Call into our Grafton Street to speak to one of our experts on which laptop will fit your specific needs, and for more Tecca News, follow us on Social Media. @mytecca
Check below for a summary table pdf the key comparisons between the Huawei Matebook D14 and the Macbook Air 13":
 
 

 Apple MacBook Air 13"

 Huawei Matebook D14
 Verdict
 Processor

  M1 8-core. 

  3,200 Mhz

  Intel core i5 10210U.    2,666Mhz
 Macbook Air
 RAM
 8 GB
 8 GB
 Tie
 GPU
 Integrated 7-core
 Redeon Vega 8 Mobile
 Matebook D14
 Screen Size
 13 inch
 14 inch
 Matebook D14
 Display Resolution
 1920 x 1200
 1920 x 1080
 Macbook Air
 Battery Life
 18 Hours
 13 Hours
 Macbook Air
 Storage
 256GB SSD
 512GB SSD
 Matebook D14
 Operating System
 MacOS Big Sur
 Windows 10
 Macbook Air
 Weight
 1.27kg
 1.53kg
 Macbook Air
 Aesthetic 
Aluminium casing, responsive trackpad, backlit keyboard.
Aluminium casing, responsive trackpad, backlit keyboard.
 Macbook Air
 Price
€1,129
€699
 Matebook D14
Leave a comment