Fáilte ☘️ Same-Day Delivery available for Dublin* (Please see FAQs for more information)
Login
Log in if you have an account
Register
By creating an account with our store, you will be able to move through the checkout process faster, store multiple addresses, view and track your orders in your account, and more.
Create an account
The Huawei Mateview: Beautifully engineered, amazing price.
05 Jan 2022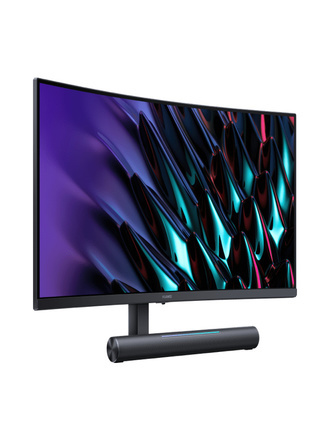 The Mateview 34" is the stand out monitor from Huawei's latest range, with a 34" curved display that fills your vision, and brings new meaning to the world of immersive viewing. 
Breathtaking Display
The screen itself is visually breathtaking, with 3440 x 1440 pixels providing stunning graphics. This native resolution is arguably a perfect compromise between responsiveness and graphic detail. A 165Hz refresh rate allows content to flow seamlessly and smoothly, bringing it to life right before your eyes. 
The Mateview's curved 34" form factor is striking. The sheer size of the display means you have more real estate to get the job done while you develop high quality content. For instance, you can display your creative interface on the left side of the screen while displaying your toolbar on the right-hand side. This gives you the freedom to monitor changes in the parameters of creative software and produce consistently high-quality work.
The Mateview has a brightness of 350 nits, making the screen bright and vibrant no matter the surroundings. The immersive, super-large screen surrounds you wherever you look. And with a cinematic 90% P3 colour gamut and 10-bit colour depth, the screen displays more than 1 billion colours with smooth and natural colour transitions. This wide colour gamut provides an amazing, cinema-like experience ever time. The net result of all of this being a fantastically immersive experience, wether you're a gamer playing games like Forza or Witcher, or a Podcaster who's using video editing and production software, to just about anything in-between!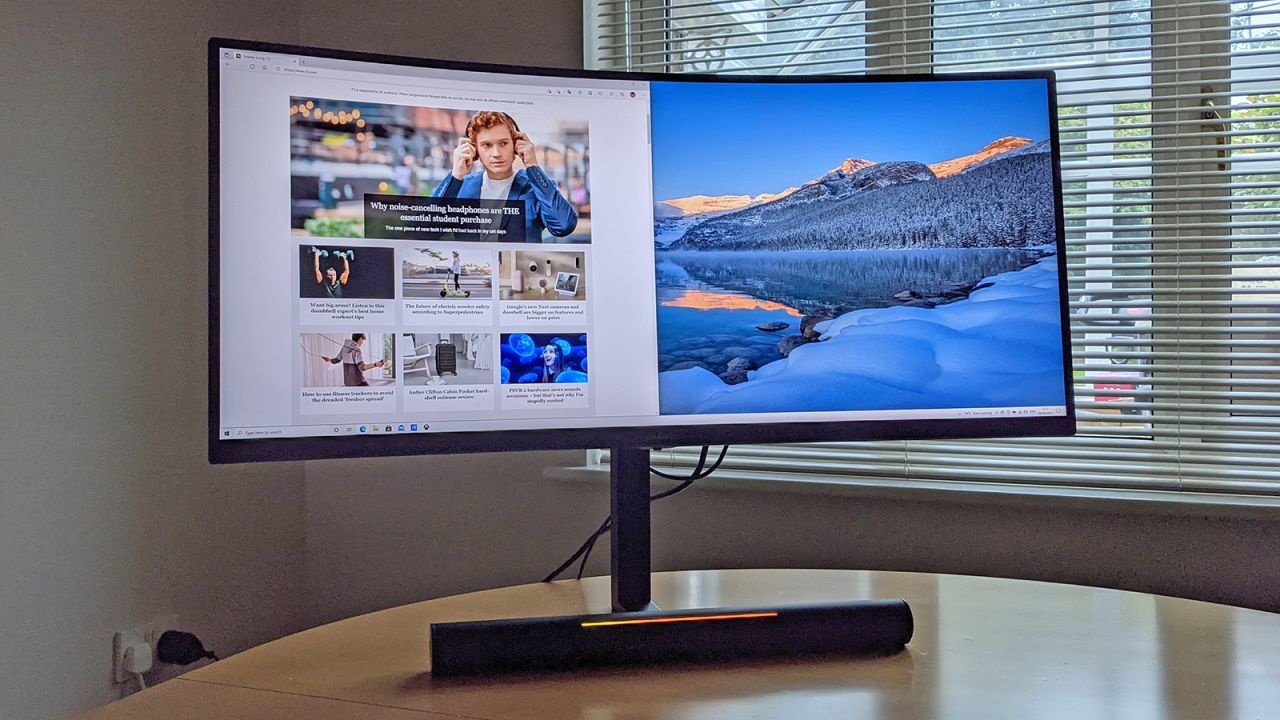 Design Disbelief 
Perhaps what is most striking about the monitor is the industrial design itself, with an amazing curved screen and superior build quality to anything we have seen on the market. The base of the monitor includes a SoundBar with an elaborately integrated dual 5W speaker that utilises a smart audio algorithm. This helps to provide high quality stereo sound, and allows you to achieve great audio without the need for external speakers. And aesthetically we are big fans, of the SoundBar's striking design and also the desk space this helps to free up. 
The SoundBar also boasts smart controls to make the Mateview even easier to use. Want to change the volume fast? Just swipe your finger along the SoundBar to quickly and intuitively control the volume. And as you increase the volume, you'll see more of the built-in, multi colour display light up, for that extra touch of magic. 
The Mateview also provides a wealth of port options. There is an easy to remove magnetic back cover that opens up to reveal a whole host of connection options. There is a multi-functional USB-C port for rapid data transfers, 8k Video and charging. There is also two HDMI 2.0 ports, one Display Port and a 3.5mm headphone jack, so you can get hooked up to what you need, fast. 
The Mateview can also be adjusted for the perfect angle. Elevation can be adjusted at the back up to 110mm, and the screen can pitch forward 5 degrees or backwards up to 20 degrees. We love this feature as it allows you to set up the monitors angle so that it perfectly fits with your own desk set up. And to top it off, the bracket can be easily removed to enable the monitor to be fully wall mountable.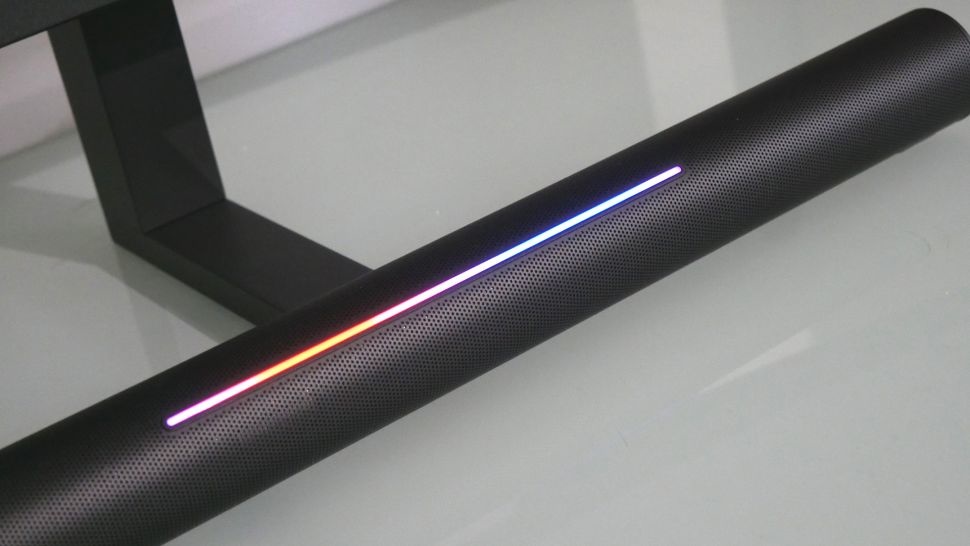 Next Level Gaming
There is also a smart dual-mic system built into the monitor, with excellent voice detection meaning you will always be heard. The microphones can pick up your voice from up to 4 meters away, and operate completely 360 degrees around. The smart AI system then enhances the clarity of the audio, to ensure that you're not only heard, but understood. We were extremely impressed with how flawlessly these microphones picked up and enhanced our voice notes. 
The Mateview also comes with a variety of features to bring your gaming experience to the next level. The 'Dark Field Control' feature allows you to adjust the brightness specifically for low light scenes, giving you the upper hand and allowing you to spot your opponent before they can spot you. And the 'Crosshairs' on screen digital target sights help to take your aiming to the next level. One of our favourite gaming features is being able to change your gaming parameters to fit the type of game you're playing. You can choose from 8 tailored display options to fit perfectly with the game you're playing. Choose from display options designed for First Person Shooters, Real Time Strategy games, Multi Player Online games and more. One screen fits them all.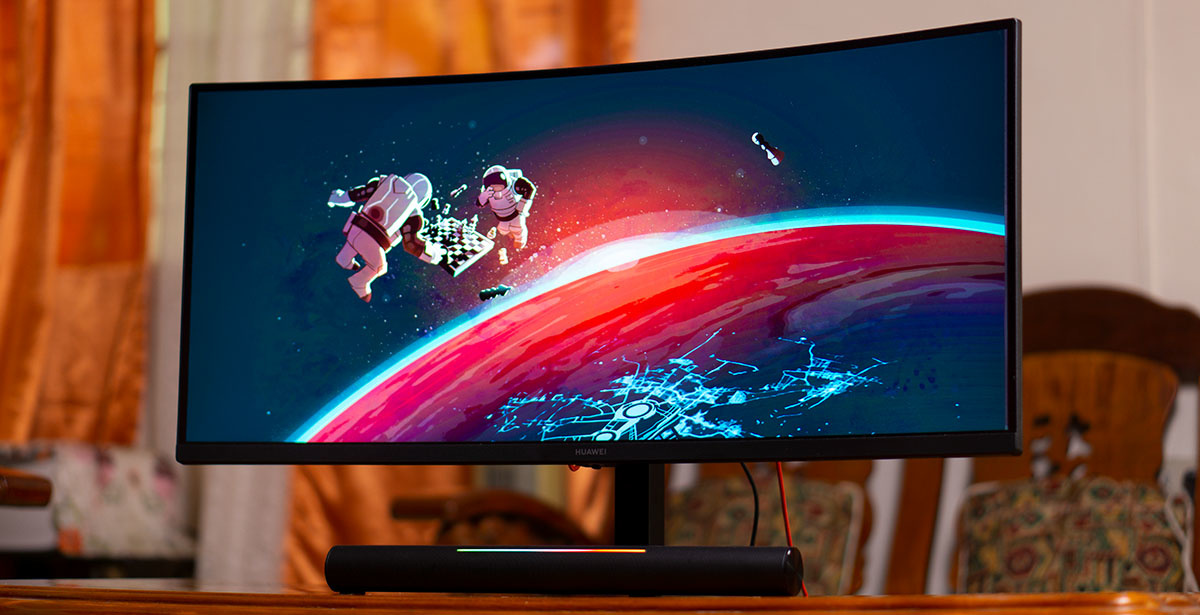 Verdict 
All in all the 34" Huawei Mateview is an amazing monitor, with a crystal sharp display, fascinating curved screen and an immersive Sound Bar. It's a great monitor for anyone looking to increase their productivity from their home office, someone who's diving into their video and sound production professionally or as a casual podcaster, or Gamers who want to take their experience to the next level. 
Check out the Huawei Mateview 34" here
Leave a comment